27 June, Royalty, Religion, and getting lost
Having said goodbye to Christelle and her family's wonderful hotel, we jumped on our bikes for the short ride to the Royal Abbey of Fontevraud. It really was a quick bike ride, about 15 minutes. Once there, we found a place to lock our bikes, and I found our room key in my pocket. So while Kathrin began her tour of the Abbey, I was biking back to the hotel to return the key. 20 minutes later I was back at the Abbey. After walking through the entrance gate, I realized I forgot my camera. So back out to my bike to retrieve my camera. By the time I was back at the entrance, a sizeable group of tourists was in line. After 10 minutes, I was finally in the Abbey compound. Did I mention that I hate my crappy memory? Putting the frustrating beginning behind me (and hoping it stays behind me) I found Kathrin and we enjoyed the Abbey together.
L'Abbaye Royale de Fontevraud began as an Abbey and later was used as a prison (in fact it was one of the most feared prisons in France). It is impressive, both for its size and for its past. There were a series of panels in the cloister which described the harsh life the nuns and later the prisoners endured. The connecting theme between the two stories was the corrupting influence of authority/power and the resultant harsh life of the nuns and the prisoners. The parallels between the authoritarian rule of the nuns and later the prisoners were shockingly similar.
We were surprised to learn that King Henri II, his wife Eleanor of Aquitaine and their son, King Richard the Lionhearted, are all buried here. Although their remains were removed during the French Revolution, the sarcophagus remains in the Abbey.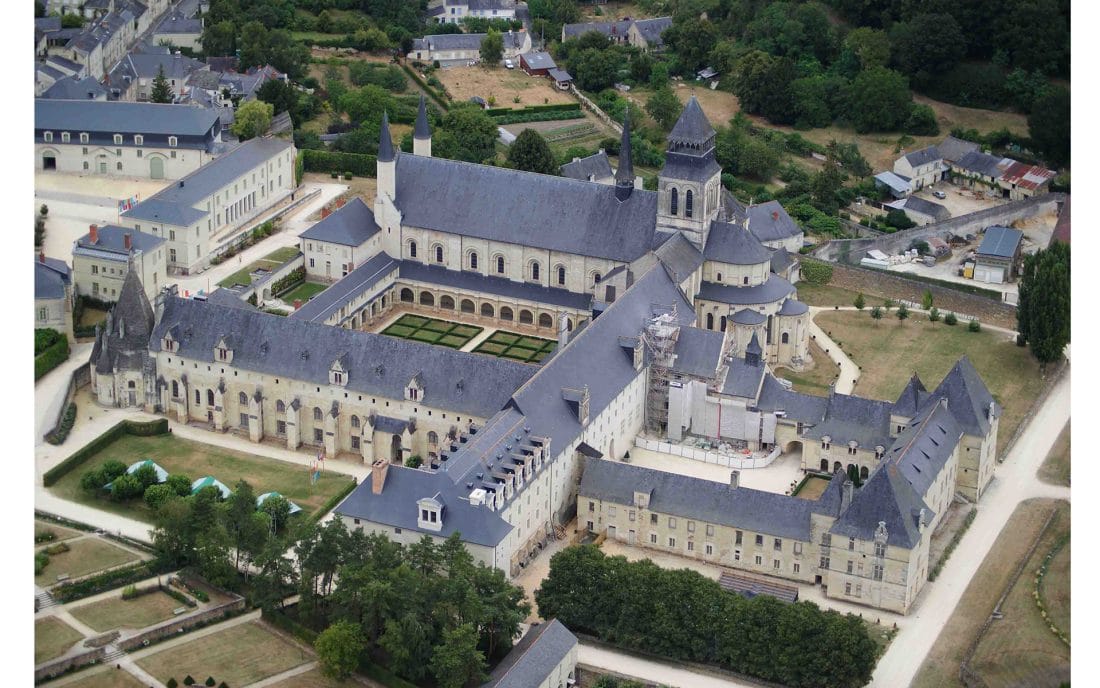 Despite its lurid history, today it is an interesting place to visit. The architecture was lovely, and the size and scope of the whole compound made for an impressive visit. At one point we read that efficiency was the standard by which they designed the abbey community. I guess you have to live there to appreciate that aspect, but it was a pleasant walk.
In the church's attic is an exhibit by a French artist. The entire room was lit by red lights, there was soft, meditative music in the air, and there were wooden dugout canoes in the center of the floor area. Reading about it later, we learned that it is the artist's interpretation of the quiet serenity between the Loire and the northern lights.
As we were coming down the stairs of the attic, we heard some music coming from outside. I immediately recognized the singer – Gregory Porter. My ears immediately perked up. Could it be that he was giving a concert here? We looked out of a window and saw, to my disappointment, that it was just a crew putting together a stage while playing some great background music. After walking around the abbey community and using all my willpower to leave the music, we saddled up and began our crazy mis-adventurous ride to Azay le Rideau.
Finishing the day in Azay le Rideau
This was the hottest day yet, and we had a full day's ride ahead of us. Our planned route took us back to Chinon and then followed a fairly straight line to town. But Kathrin has this thing about going back – she never does it. Always forward is her motto. She looked at the map to find another route that avoided Chinon, and eventually we decided to follow some signs and just figure it out. How hard can it be? Big mistake…epic mistake. We ended up adding 15km to our ride. To make matters worse, my bike's navigation computer routed us into an unmaintained overgrown path that led to a dead end. It was disastrous. After a long, hot, frustrating bike ride that lasted forever, we finally arrived at our destination, Hotel de Biencourt in Azay le Rideau.
Hotel de Biencourt is a small, local boutique hotel run by two guys who really love what they do. They are very personable and friendly. (The hotel itself has an interesting history, read about it on their website). The host was taking care of two other guests as we approached the reception desk. After a few minutes, he walked away with them to show them something but then came back to us and apologized for making us wait and assured us he would soon be back. A gracious gesture that made a good first impression on us. Once he returned and we gave him our name, he told us that because of the heat he has put us in a bigger room on the ground floor (we were on the 1st floor, 2nd floor to you Americans). We appreciated his generosity, especially since we biked 52km (33 miles) in 36˚+ heat (95˚F).
Our room was on the opposite side of the small courtyard from the reception and breakfast room. It was very nicely decorated and comfortable, with a modern bathroom. Let me tell you, a shower never felt so good as after that long, hot bike ride.
For dinner, we relaxed in the courtyard and had the leftovers of our picnic lunch. The tranquility of the courtyard made for a relaxing atmosphere. Once we felt like we had recuperated, we explored the neighborhood. The Château was just around the corner from our hotel. Arriving at the gate we saw that we were too late, it had already closed. We scouted the perimeter of the castle to see if there were any suitable locations for photos, but there wasn't. So we planned on returning the next morning for a tour. So we took the time to do a bit of sightseeing. The town is small, which made for an easy, enjoyable walk. We saw some old churches; we found some geocaches; we admired the scenery. We finally ended our adventurous day on a pleasant note.
If you would like to see more of my photos during our trip in the Loire Valley, visit my Flickr page